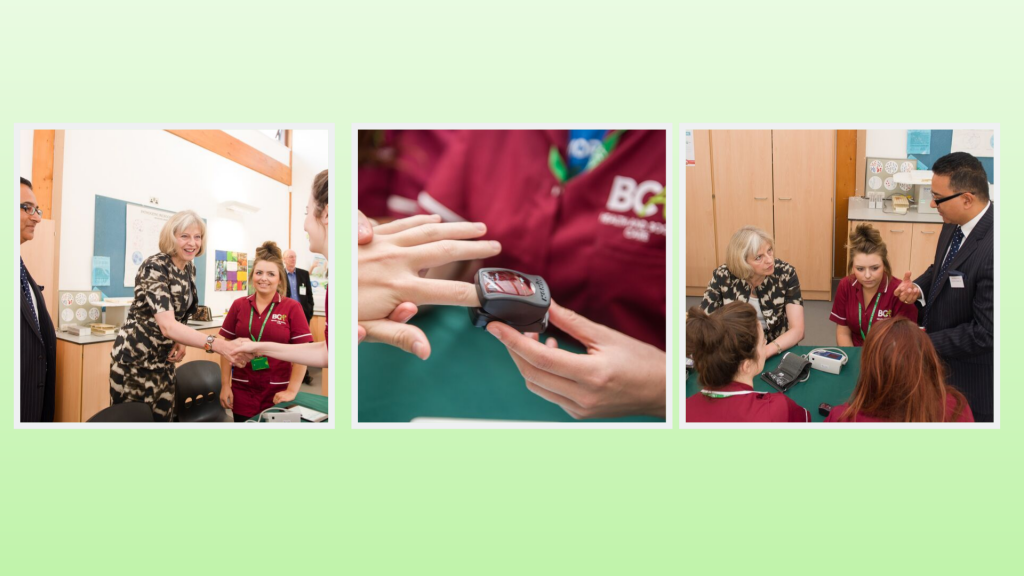 Solutions 4 Health and BCA (Berkshire College of Agriculture) announced their partnership that will incorporate technology enabled care in the college's health & social care programme.
Partnership between Solutions 4 Health & BCA will lead the education of young people for the Health & Social Care sector.
Solutions 4 Health are pleased to have had the Home Secretary Theresa May, MP launch their Education 4 Health partnership with the Health and Social Care Department at BCA (Berkshire College of Agriculture) on Monday 22nd September. This is a unique initiative with a focus on preparing young people, tomorrow's workforce, for their future careers in health care.
For BCA's health and social care curriculum, Solutions 4 Health are supplying their digital platform and several sets of wireless monitoring devices that monitor and record clinical vital signs of patients or 'service users' such as blood pressure and weight.  Additional tools are planned for cognitive behaviour therapy and mental health, and social care resources which will be made available on the MySelfCare technology enabled care service (TECS) during the college year. Embedding MySelfCare into the health and social care curriculum will provide an integrated learning platform that will not only equip young people with the experience and confidence to use technology in the future, but also give them a head start in their future careers within the health sector.
Solutions 4 Health is an innovative and independent health care company with three divisions – healthcare, information systems and technology enabled care services. Within a constantly changing healthcare landscape, new advancements in technology have the potential to completely transform its delivery. Solutions 4 Health recognise the need to develop the technology to support this transition and prepare young people to be better equipped to deal with the changing dynamics in the healthcare sector.
BCA which was formed in 1949 is an FE college and land based specialist and offers courses a wide range of programmes including health and social care. Located in 400 acres of land, the College comprises state of the art facilities couple with high quality teaching facilities. The commitment and support of the tutors provides students at the college with the best development opportunities to secure a career within their chosen field of study.
Gillian May, Principal, BCA said "I am delighted that BCA has the opportunity to work with business partners to support our curriculum. This innovation will enable the students at BCA to understand and work with the new technology currently being developed in the health and social care sector, building their understanding and work readiness."
Kishore Sankla, Chief Executive, Solutions 4 Health said: "We are pleased to be working with BCA in developing their health and social care curriculum as part of our vision to support young people coming into the health and social care profession. We are providing the resources, monitoring devices and technology to support this scheme, to enable young people to develop the critical skills required by the industry."
MySelfCare allows health professionals and patients to take their care to a new level, instilling confidence and independence in individuals with long term conditions. The outcomes of the collaboration will be better prepared young people, increased awareness of the need to integrate technology with health and social care for better results in preventative health.
For more information on the partnership visit www.solutions4health.co.uk/s4h-tv